Organized by the Union Nautique Marseillaise in collaboration with the French Sailing Federation (FFV), the first French championship of the J/70 one-design series will be held from June 4th to 6th, 2022.
40 boats are expected this weekend from France, but also from abroad (Monaco, Italy, Spain…). This is an opportunity for the crews to test themselves before the European and World Championships, respectively in Hyères and Monaco next September and October. Moreover, it is also an excellent opportunity for them to prepare themselves for the 2024 Olympic Games which will take place in this same Marseille's bay.
200 athletes from 4 different categories will compete in this championship;
General
Amateurs
Youth
Mixed
"This is the first title awarded in J/70 by the French Sailing Federation, which is betting on this support since 2021, for young people in Inshore. The title will be awarded, alternately, one year out of two, on the Mediterranean and on the Atlantic coast. In 2023, it will take place in Brest. The Union Nautique Marseillaise is very proud to write the first page of the J/70 history…"
Philippe Bonavita, class president and member of the UNM sports commission
The races will be run on a so-called "banana" course as shown on the diagram opposite. 4 races will take place per day, each lasting an average of 45 minutes.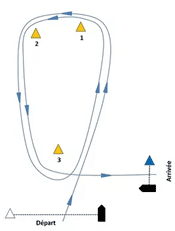 All the team of l'Anse de la Réserve wishes a good weekend to the runners and organizers, may the best win!
Sportively.